Welcome to New Life of Carol City!
We are elated that you have decided to share this experience with us. Our goal is to ensure that this site serves as an effective vehicle of inspiration, communication and education. We pray that we will be able to challenge your faith, nourish your soul and lift your spirit as you connect with New Life.

IN-PERSON WORSHIP EACH SUNDAY AT 9:30 AM
Join us for our in person Sunday Morning Worship Service. Registration is Required. We're practicing social distancing, so seating is limited. Masks are required. Please do not attend if you have been in contact with someone who currently has Covid-19 or if you have cold-like symptoms.
We will also continue to stream live on Facebook @visitnewlife. Looking forward to seeing you !
ATTENTION: THE FOLLOWING SERVICES
WILL BE ON-LINE ONLY!
July 4th, July 18th and August 8th
BLACK MULTICULTURAL STATE FELLOWSHIP CONFERENCE

Pastor Erik Cummings Re-Elected as
Florida Baptist State Convention President!



Check Out Our Church App and Keep Up With What's
Going on at New Life!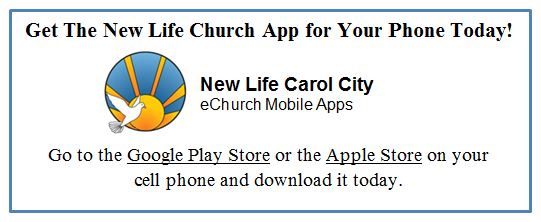 Stay Connected!
Spend time with the Lord daily through prayer and daily devotion.
He's trying to tell you something.
Click here
for daily devotions and scripture readings. Blessings!